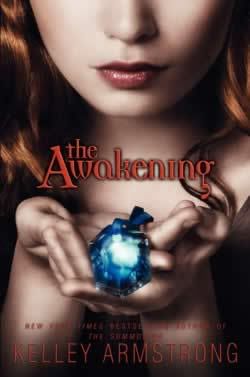 The Awakening
Kelley Armstrong
Release Date: April 28, 2009
Harper Collins
Pages: 368
Reading Level: Young Adult
Rating: 5 stars
If you had met me a few weeks ago, you probably would have described me as an average teenage girl—someone normal. Now my life has changed forever and I'm as far away from normal as it gets. A living science experiment—not only can I see ghosts, but I was genetically altered by a sinister organization called the Edison Group. What does that mean? For starters, I'm a teenage necromancer whose powers are out of control; I raise the dead without even trying. Trust me, that is not a power you want to have. Ever.
Now I'm running for my life with three of my supernatural friends—a charming sorcerer, a cynical werewolf, and a disgruntled witch—and we have to find someone who can help us before the Edison Group finds us first. Or die trying.
Wow! The Awakening by Kelley Armstrong was just as great as The Summoning. I loved every minute of it!
The plot was exciting, never letting up for a moment. What Kelley Armstrong had in The Summoning just kept growing and getting better in The Awakening.
Throughout The Awakening, you see the characters develop more and more, learning more about them. You learn not only more about the characters themselves, but their powers and how they work. It's interesting watching the relationship between Derek and Chloe. I want to know exactly what it all means. At different points in the book, I thought I'd finally find out, but no luck. :)
The book ends with a great ending, leaving you pining for the next book just as The Summoning had.
This book essentially just wowed me to no end. I loved it! And am now more impatient than ever for next year to come so The Reckoning will be released :)