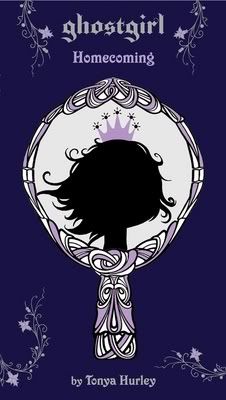 Ghostgirl:Homecoming
Tonya Hurley
Release Date: July 1, 2009
Publisher: Little, Brown Young Readers
Pages: 296
Reading Level: Young Adult
Rating: 4 stars
Heaven couldn't be a phone bank, could it?

Charlotte Usher discovers that the afterlife isn't quite what she pictured when she's forced to intern at a hotline for troubled teens. Before she can officially cross over, she'll have to be a source of guidance for one such teen. The problem is she doesn't have much advice to offer since dying hasn't exactly boosted her confidence level.

But when Hawthorne High's leading, love-to-hate cheerleader Petula and her gothic little sis' Scarlet find themselves suddenly resting-in-peace in comas, Charlotte's opportunity to save them will prove to be the risk of a lifetime-for all of them.
Ghostgirl: Homecoming by Tonya Hurley was a great continuation of Charlotte's story! Once again, Tonya Hurley spins an interesting perspective of the afterlife, and offers another witty and entertaining story. Book 2 draws you into the story a lot quicker than Book 1 and has more depth, just making the story that much better.
As the book goes on, you see characters, Charlotte especially, grow and as that happens, they really grow on you as a reader. You see some expected changes in characters while also juggling the true intent of others.
The ending seemed a bit abrupt, but it still was a great book! Out of the two books, I'd have to say Ghostgirl: Homecoming was probably my favorite.
Once again, the cover is amazing and the pages are neat designs on them.