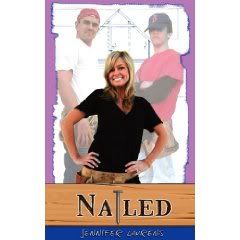 Nailed
Jennifer Laurens
Publisher: Grove Creek Publishing
Release Date: September 22, 2008
Pages: 240
Rating: 3 stars
One girl. Two guys. Who says three's a crowd? When Mandy takes an unusual summer job-in construction-she has to prove she's just one of the guys. But she gets more than she bargains for being the only girl on the job. The mixture of hot guys, sunscreen, raw wood and testosterone proves to be an elixir she can't protect her heart from. Brooding Boston and flirty AJ find themselves looking at Mandy as more than just a girl who holds a hammer. Mandy soon finds herself not only lost in a whirlwind of a male-dominated world, but also the center of an inadvertently "constructed" love triangle. Mandy must choose between two guys who want her heart. But what's a girl to do when she wants them both?
Nailed by Jennifer Laurens was a fun, quick read that I enjoyed reading. Nailed wasn't a book that really wowed me though. After awhile, watching Mandy go between the two guys just got a little old to me. There's only so much you can write about a love triangle. Jennifer Laurens writing was great and kept the book flowing.
And I know covers shouldn't make a difference really, but the girl on the front looks way older than a recent high school graduate and overall, to me, it just wasn't that attractive.
I will definately be checking out other books by Jennifer Laurens!