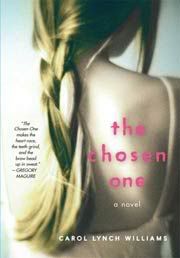 The Chosen One
Carol Lynch Williams
Release Date: May 12, 2009
Publisher: St. Martin's Griffin
Pages: 224
Rating: 5 stars
Thirteen-year-old Kyra has grown up in an isolated polygamous community without questioning her father's three wives and her twenty brothers and sisters. Or at least without questioning them much—if you don't count her secret visits to the Mobile Library on Wheels to read forbidden books, or her meetings with the boy she hopes to choose for herself instead of having a man chosen for her. But when the Prophet decrees that Kyra must marry her 60-year-old uncle—who already has six wives—Kyra must make a desperate choice in the face of violence and her own fears of losing her family.
This was such a compelling, powerful book of choice and rebellion. The Chosen One has such strong emotions that kept you thinking and feeling for Kyra(the main character) the entire book. With The Chosen One, there were varying shades of gray, everything wasn't just black or white. It made the book so much better.
The Chosen One was one of those books that after you read, the plot still keeps reeling in your mind. The fact that Kyra "escapes" with her books if another thing that really draws you in. The Chosen One isn't just a book, it's a story that's a long trek of emotions. It was a great read, that carries you to the end of the book, captivating you, making you read wanting more. This is a must read!