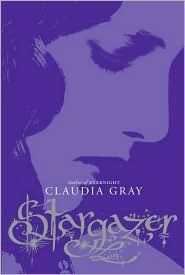 Stargazer (Evernight, Book 2)
Claudia Gray
Publisher: HarperTeen
Release Date: March 24, 2009
Pages: 336
Rating: 4.5 stars

The vampire in me was closer to the surface . . .

Evernight Academy: an exclusive boarding school for the most beautiful, dangerous students of all—vampires. Bianca, born to two vampires, has always been told her destiny is to become one of them.

But Bianca fell in love with Lucas—a vampire hunter sworn to destroy her kind. They were torn apart when his true identity was revealed, forcing him to flee the school.

Although they may be separated, Bianca and Lucas will not give each other up. She will risk anything for the chance to see him again, even if it means coming face-to-face with the vampire hunters of Black Cross—or deceiving the powerful vampires of Evernight. Bianca's secrets will force her to live a life of lies.

Yet Bianca isn't the only one keeping secrets. When Evernight is attacked by an evil force that seems to target her, she discovers the truth she thought she knew is only the beginning. . . .
Stargazer by Claudia Gray lived up to all my expectations I had for it! It was a phenomonal continuation of Bianca's story that carried on Evernight's initial plot, with relationships between characters becoming much more complex. The characters become so much more defined, and really just jump off the page at you.
I loved how in class, the things they discussed with Ms. Bethany totallly was symbolism for what happened with different characters in the book. In parts of Stargazer, Bianca got on my nerves. Some of her plans were so obviously going to go wrong, yet she agreed to go on with them.
I never was quite sure where Stargazer was going to go next, and found myself pondering past events as I read forward. The end was definately something you wouldn't expect, which made it all the better.
I was depressed when I got to the end, as I now have to wait until next spring for Hourglass, and hear more of Bianca's story.