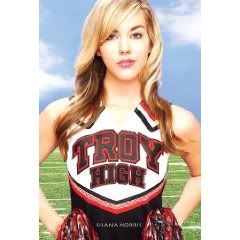 Troy High
Shana Norris
Release Date: August 1, 2009
Publisher: Amulet Books
Pages: 256
Rating: 4 stars
Homer's Iliad, the classic tale of love and revenge, is shrewdly retold for teens in Troy High.

Narrated by Cassie, a shy outsider who fears that an epic high school rivalry is about to go up in flames, the story follows the Trojans and Spartans as they declare war on the football field. After the beautiful Elena—who used to be the captain of the Spartan cheerleaders—transfers to Troy High and falls madly in love with Cassie's brother Perry, the Spartans vow that the annual homecoming game will never be forgotten.

The Trojans and Spartans pull wicked pranks on each other as homecoming approaches. And the Spartans' wildcard football star, Ackley, promises to take down the Trojans' offensive line. But the stakes are raised when Cassie is forced to choose between the boy she loves (a Spartan) and loyalty to her family and school. Troy High will seduce readers with its incendiary cast of mythic proportions.
This was a great modern day retelling of The Illiad. I'm a total sucker for Greek Mythology, but to write good retellings of Greek Mythology is hard, and this one did not let me down. I pretty much read straight through in a couple of hours. It was totally original, and will appeal to different groups of readers. Troy High by Shana Norris was smart and well-written.
The characters were fitting. Cassie, the narrator of the story, is the only one with her head on straight, seeing the stupidity of everyone around her. She was easily my favorite character, probably for the reason stated above. The rest of the characters have the sole focus of kill the other side, and it did get a bit old at times. Cassie and Greg were so oblivious to the other, which drove me nuts! But once again, I think that was part of their charm. All the characters fit nicely together to the whole story. I really like the cover of Troy High by Shana Norris. It totally fits the story, as Elena is the girl responsible for everything.