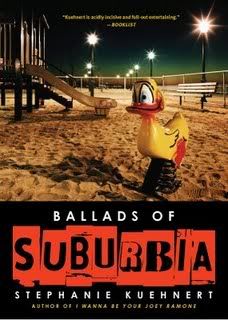 Ballads of Suburbia
Stephanie Kuehnert
Release Date: July 21, 2009
Publisher: MTV Books
Pages: 368
Rating: 5 stars
Ballads are the kind of songs that Kara McNaughton likes best. Not the cliched ones where a diva hits her highest note or a rock band tones it down a couple of notches for the ladies, but the true ballads: the punk rocker or the country crooner telling the story of their life in three minutes, the chorus reminding their listeners of the numerous ways to screw things up. In high school, Kara helped maintain the "Stories of Suburbia" notebook, which contained newspaper articles about bizarre and often tragic events from suburbs all over and personal vignettes that Kara dubbed "ballads" written by her friends in Oak Park, a suburb of Chicago. Those "ballads" were heartbreakingly honest tales of the moments when life changes and a kid is forced to grow up too soon. But Kara never wrote her own ballad. Before she could figure out what her song was about, she was leaving town after a series of disastrous events at the end of her junior year. Four years later, Kara returns to face the music, and tells the tale of her first three years of high school with her friends' "ballads" interspersed throughout.
Wow, Stephanie Kuehnert doesn't hold back a thing with Ballads of Suburbia! It hits you hard, not letting you forget. Even after I finished reading, the stories and the characters kept playing through my head. Every event that took place, I felt like I was there. And though I've never had the same experiences at Kara, I felt like I was there with her experiencing it all the same. It takes a truly talented writer to do that.
The characters and their stories were all so real, all the characters had some sort of hardship which really had you feeling for them. Stephanie Kuehnert shares the hardships each character has through their own "ballad" where they have the chance to share their story, and how it influenced them and ties into their present lives. Ballads of Suburbia told the truth no one seems to tell. While the characters are fictional, everything that happens to them has probably happened to someone in the real world.
Ballads of Suburbia by Stephanie Kuehnert has definately made its way into my favorite books. I honestly don't know exactly the words to right describe it and do it justice. Hours later I'm still thinking about the story, and throughout the whole book I felt for all the characters as they journeyed through life, dealing with hardships.
I absolutely love the cover! The park is so to central to the story, it would only make sense for it to be on the cover.
I cannot wait to see what great story Stephanie Kuehnert has for us next!