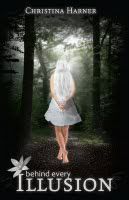 Behind Every Illusion
Christina Harner
Release Date: June 6, 2009
Pages: 500
Rating: 4.5 stars
All creatures born of human parents must be human and therefore must be ordinary.

Even the soft-spoken eighteen-year-old Tatiana Lewis wholeheartedly accepts this logic. So when she begins to experience unusual changes, she has no clue where to turn and instead keeps her new abilities a secret. But her best friend and brother, Isaac, sees past her illusions and together they explore the significance of her differences and search out the meaning behind them.

Amidst tragedy, unimaginable transformations and an unexpected friendship, Tatiana has to learn to reveal the girl hidden behind her illusions and what it means to face the world in order to preserve not only the forest but her very existence.
Behind Every Illusion by Christina Harner is the first book in an exciting series about the extraordinary ways the earth has evolved in a desperate attempt to save itself from the destruction caused by humankind.
I love fairies and mythology, so reading a book that included both was great! Behind Every Illusion was a much more personal book than other of its genre to me. It really dealt with being comfortable in your own skin, which is something some people have such an issue with. That message is great! Behind Every Illusion for me was a bit slow in the beginning, but really picked up towards the end. Though, I read the ARC Edition which I've been told is about 25000 words longer, so I'm sure it doesn't drag at all in the final edition. Behind Every Illusion wasn't an action-packed book, but through some slower parts everything that goes on with the characters really sinks in as you read the next part. The beginning was intriguing, but as the book went along I found it harder and harder to put it down. I was getting so involved in the story, and just had to know what happened next. There was a big "Going Green, Save The Earth" message in the novel which also I thought was interesting. It gives a fresh spin to the invovlement of other creatures with the way humans are destroying the planet!
The book took a few large twists and turns I had no clue were coming! The ending was my favorite part – I was flipping pages so fast to know what was going to happen.
Another forte of the book was the characters. I really just fell in love with Isaac, Winter, and Adam. All 3 of these bring so much emotion to the story, which is such a large part of the novel. Tatiana was a great character as well, but the one thing about her that bugged me was that she had to tell everyone she's an introvert.
I think the cover is just gorgeous, and cannot wait to read more of Titiana's story in the sequel!