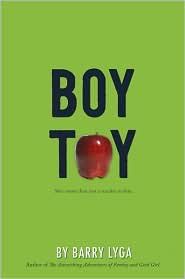 Boy Toy
Barry Lyga
Release Date: September 24, 2007
Publisher: Graphia
Pages: 416
Rating: 3 stars
Five years ago Josh's life changed. Drastically. And everyone in his school, his town—seems like the world—thinks they understand.

But they don't—they can't.

And now, about to graduate from high school, Josh is still trying to sort through the pieces. First there's Rachel, the girl he thought he'd lost years ago. She's back, and she's determined to be part of his life, whether he wants her there or not.

Then there are college decisions to make, and the toughest baseball game of his life coming up, and a coach who won't stop pushing Josh all the way to the brink.

And then there's Eve. Her return brings with it all the memories of Josh's past. It's time for Josh to face the truth about what happened.

If only he knew what the truth was . . .
Barry Lyga writes a powerful story in which he holds nothing back. Boy Toy by Barry Lyga is written back and forth between Josh's flashbacks from 5 years ago and the present. At any given time, you're chance to be wondering what Josh's thinking, and later you find out. Joshua has withdrawn himself, and avoided Rachel, because of the incident 5 years ago, until he bumps into her. Now he must face himself and open up with the truth. The plot kept me flipping pages, waiting to see what Josh would do next. Josh was a great narrator, his voice was pleasant and kept you reading. I definately will be checking out Barry Lyga's other works!