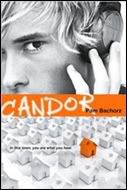 Candor
Pam Pachorz
Release Date: September 22, 2009
Publisher: Egmont
Pages: 256
Rating: 4.5 stars
In the model community of Candor, Florida, every teen wants to be like Oscar Banks. The son of the town's founder, Oscar earns straight As, is student-body president, and is in demand for every club and cause.
But Oscar has a secret. He knows that parents bring their teens to Candor to make them respectful, compliant–perfect–through subliminal Messages that carefully correct and control their behavior. And Oscar's built a business sabotaging his father's scheme with Messages of his own, getting his clients out before they're turned. After all, who would ever suspect the perfect Oscar Banks?
Then he meets Nia, the girl he can't stand to see changed. Saving Nia means losing her forever. Keeping her in Candor, Oscar risks exposure . . . and more.
Candor by Pam Bachorz is a fresh take on the sci-fi topic of mind-control while being intriguing, thought-provoking, and almost a little creepy. The thought of teens lives being controlled by messages they don't even realize are there moves it right up the scale. Candor is definately a book to keep your curiousity pumping!
Candor took a few chapters to really pick up, but once it did, there was no putting it down. The story was addicting – I had to know what would happen next. Pam Bachorz kept you guessing at every twist and turn what was going to happen. The ending was the biggest shocker of all!
I loved all the characters, both main and supporting. Oscar and Nia were such opposites in some ways and alike in other ways. Nia was my favorite character, I loved her attitude and her I'm going to do what I want sass. At first I wasn't the biggest fan of Oscar, but the change in character when Nia comes into his life changed my opinion of him. When Nia came into his life, he was still the arogant son of a genius, but he seemed more real. The supporting characters were great as well. Mandi played her role perfectly, letting you see the effect the messages have on the teens. Sherman was another character that at times you were so annoyed with him, but then because the messages controlled his life you found yourself sympathizing with him.
I was expecting something a little different from Oscar and Nia's romance. At first, it seemed there was no basis really and they just fell for each other right away. I didn't feel as much of a build between the two as I expected. Later, you truely can tell the emotions they have for each other are there completely, but to get there seemed a bit of a jump.
Candor by Pam Bachorz is definately one to pick up this fall! I'd pick up a continuation of Candor's story in a heart beat should Pam Bachorz chose to tell us more!