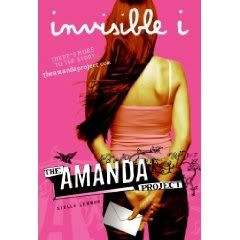 Invisible I (The Amanda Project Book 1)
Stella Lennon
Release Date: September 22, 2009
Publisher: HarperTeen
Pages: 304
Rating: 3.5 stars
When enigmatic high school student Amanda Valentino disappears, her closest friends vow to find her. The search begins in Invisible I, the first title in the eight-book series. But once the teens follow clues that might lead to Amanda, they realize that everything they thought they knew about her was false and find themselves with more questions than answers. As they begin to compare notes on their missing friend, the mystery of where—and who—Amanda is deepens.

The series begins with the books, which stand alone, but will lead readers to www.theamandaproject.com for an extended Amanda Project experience. Online, they can write stories, post art, share theories about Amanda (which could be chosen to become a part of later books in the series), even design and buy clothing and accessories inspired by Amanda. Regularly updated content by and about the characters from the books will keep the community buzzing and ensure that readers check back often.
Invisible I: The Amanda Project by Stella Lennon is a promising start to what could be a great series! Invisible I takes you through Amanda's disappearance and her 3 "guides" quest to find her. It was definately a page turner, because I kept thinking Who's Amanda? and What's She Doing? This was a totally fun read.
My issue with Invisible I was that it didn't seem come to any point. For Book 1, I don't necessarily want all the answers for the series, but I'd like a little more information. When Book 1 finishes, I want some issues resolved and also putting something new on the field. I felt that I was just running in the same circles throughout the entire book. All I really figured out was that Amanda told about a bajillion different stories. I also found it a little hard to believe everything she managed to pull off – though maybe that's a topic for the next 7 books.
The ending is totally intriguing, it sets up the next book and makes readers want to know exactly what will happen next and get the answers to their questions.
I love the page design on the book, there's different designs on some of the pages, and "notes" on others. I also really like the cover.
I'll definately check out Book 2, I want to see where finding Amanda leads Callie, Nia, and Hal next and how their friendship grows.