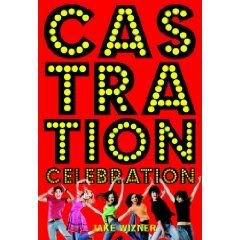 Castration Celebration
Jake Wizner
Release Date: May 26, 2009
Random House
Pages: 304
Reading Level: Young Adult
Rating: 4 stars
It's High School Musical—rated R!

When the girl who's foresworn men meets the boy who's devoted himself to picking up women, there's bound to be drama—perfect for a sixweek summer program devoted to the arts. Olivia's summer goal: to write a musical that censures men with wandering eyes. Max's summer goal: to hone his acting skills, along with his talent for attracting the ladies. Before camp is over, they'll perform Olivia's musical onstage and in real life—though the ending may turn out differently than either expects.

Jake Wizner's story within a story takes the battle of the sexes to a whole new level in a bawdy, uproarious romp that's laugh-out-loud fun.
Castration Celebration by Jake Wizner was an interesting book to say the least… Pretty much the entire thing was hilarious. Though this book may not be the book for everyone.
Castration Celebration was well-written, and I liked the format it was written. The main character, Olivia, is writing a play and you switch between reading about what's actually going on at the summer arts program at Yale, and her play.
Though, the whole part about Olivia playing hard to get and that Max keeps going for it. All the stuff she does is just rididulous and to me was annoying to read. The other characters were great though, Trish and Zeke were my 2 favorites.