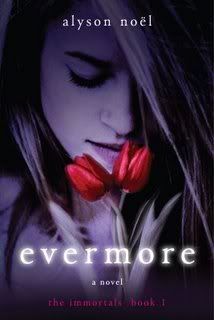 Evermore (The Immortal Series)
Alyson Noel
Publisher: St. Martin's Griffin
Release Date: February 3, 2009
Pages: 301
Reading Level: Young Adult
Rating: 5 stars
Since a horrible accident claimed the lives of her family, Ever can see auras, hear people's thoughts, and know a person's entire life story by touch. Going out of her way to avoid human contact and suppress her abilities has branded her as a freak at her new high school—but everything changes when she meets Damen.

Damen Auguste is gorgeous, exotic and wealthy. He's the only one who can silence the noise and random energy in her head—wielding a magic so intense, it's as though he can see straight into her soul. As Ever is drawn deeper into his enticing world of secrets and mystery, she's left with more questions than answers. She has no idea just who he really is—or what he is. The only thing she knows to be true is she's falling deeply and helplessly in love with him.
I could not wait to get my hands on Evermore by Alyson Noel! I had read Alyson Noel's other books, and could not wait to read another! I absolutely loved it! I read straight through this one.
The world Noel created was fascinating. It was exciting and kept you interested. The writing was great, you really felt like you were with Ever.
Ever's character was intriguing. I could really feel for her, what she was going through. Damen was interesting, but you did not find out as much about him or feel for him as much. Not much of a backstory was given, but maybe that's to come? Miles was one of my favorite characters. Something about him was just very agreeable. Haven was a great character. She was different and realistic. Drina was interesting as well, but there could have maybe been a bit more to her.
I thought the cover was absolutely beautiful.
I simply cannot wait for Blue Moon, book 2 in The Immortal Series. I read the preview in the back of Evermore, and it sounds just amazing!
Also, I'd just like to add this. I've heard so many comparisons of Evermore to Twilight, and I really do not get it. They are completely different. Everything these days is compared to Twilight…