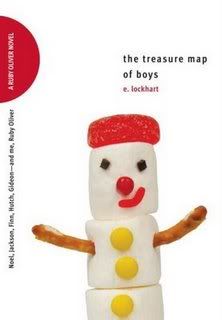 The Treasure Map Of Boys
E. Lockhart
Release Date: July 28, 2009
Delacorte Press
Pages: 256
Reading Level: 12 & up
Rating: 4 stars


Ruby is back at Tate Prep, and it's her thirty-seventh week in the state of Noboyfriend. Her panic attacks are bad, her love life is even worse, and what's more:
Noel is writing her notes, Jackson is giving her frogs, Gideon is helping her cook, and Finn is making her brownies. Rumors are flying, and Ruby's already-sucky reputation is heading downhill.
Not only that, she's also: running a bake sale, learning the secrets of heavymetal therapy, encountering some seriously smelly feet, defending the rights of pygmy goats, and bodyguarding Noel from unwanted advances.
In this companion novel to The Boyfriend List and The Boy Book, Ruby struggles to secure some sort of mental health, to understand what constitutes a real friendship, and to find true love—if such a thing exists.
This was a really cute book. It would be a really good read for just lounging around reading on a summer day or something. It's not a real complicated plot so it was easy to get (which was good, as I hadn't read the previous 2 Ruby Oliver books).
Ruby's character was really fun and tries to do the best. You can't help but to love her through all the things she does!