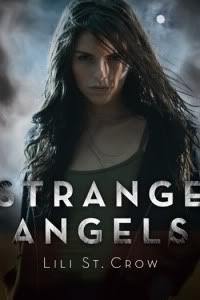 Strange Angels
Lili St Crow
Release Date: May 14, 2009
Publisher: Razorbill
Pages: 304
Reading Level: Young Adult
Rating: 5 stars
Dru Anderson has what her grandmother called "the touch." (Comes in handy when you're traveling from town to town with your dad, hunting ghosts, suckers, wulfen, and the occasional zombie.)
Then her dad turns up dead—but still walking—and Dru knows she's next. Even worse, she's got two guys hungry for her affections, and they're not about to let the fiercely independent Dru go it alone. Will Dru discover just how special she really is before coming face-to-fang with whatever—or whoever— is hunting her?
I really enjoyed reading this one! It was action packed and just held your attention. It was really well written, especially the most emotional scenes. The plot has all sorts of twists and turns, some you definately don't expect. Dru was a really strong main character, while being realistic in the sense that she has her flaws. I love Christophe too, he was a really well written character. From the first page he was introduced, I he really just caught my attention.
Definately a book to read and I cannot wait until Betrayals is released this November!