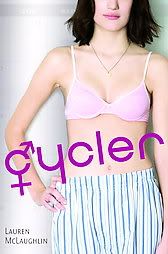 Cycler
Lauren McLaughlin
Release Date: August 26, 2008
Publisher: Random House
Pages: 256
Rating: 2.5 stars
AS FAR AS anyone at her high school knows, Jill McTeague is an average smart girl trying to get her dream date to ask her to the prom.

What no one knows, except for Jill's mom and dad, is that for the four days Jill is out of school each month, she is not Jill at all. She is Jack, a genuine boy—complete with all the parts. Jack lives his four days per month in the solitude of Jill's room. But his personality has been building since the cycling began. He is less and less content with his confinement and his cycles are becoming more frequent. Now Jill's question about the prom isn't who she'll go with, but who she'll be when the big night arrives.
Cycler by Lauren McLaughlin was a book with a very unique plot. Cycler definately gets big points for originality, but I think it was almost a little too out there for me. The fact that a split personality evolved and a girl becomes a guy 4 days a month just didn't catch me. Cycler was better as the novel went on. The beginning, to me, dragged a bit. The end was faster paced, and held your attention, while setting the stage for book 2.
The characters were a little too one-dimensional for my liking. All the gender myths were present in both Jack and Jill. This may have been the point as the two personalities are male/female, but no guy or girl fits gender myths 100% percent. I loved Ramie's character, despite her letting random strangers through her window at night :).
I thought the cover design was really neat, having Jill on the front and Jack on the back. The sequel (Re)Cycler comes out August 25!