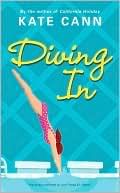 Diving In by Kate Cann
Pages: 323
Rating: 3 stars
Coll thinks the boy she sees swimming every Thursday night is completely gorgeous – long and lean, powerful and strong. He becomes the fantasy that takes her out of her ordinary day-to-day existence. And then he asks her out, and the dream becomes reality. Art is strong and powerful, and he's also quite pushy. Just what is Coll getting into?

A huge sort of tremor ran through me. After so long, so much fantasizing, I'd actually kissed him. I hope he didn't see that shiver, I thought. I don't want him to know how overwhelmed I am, not yet.
I don't really have a lot to say about Diving In by Kate Cann, it was a cute book. After awhile it just got a little old, Coll, the main character, spent the entire book was debating with herself about the guy she sees swimming, Art. At different times I wanted to scream at Coll, "Just make up your mind already!" It's a fun read for a lazy summer afternoon. I want to know where Art & Coll's story goes next, this is the first book of the trilogy.